Do you wish you could ensure your we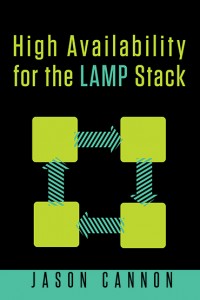 b site was up all the time and finally enjoy a peaceful night's sleep?
Do you want to be able to scale without downtime and handle unexpected surges of traffic?
Do you want a solution that just works without spending weeks testing various combinations of technologies and software?
Do you want someone to lay it all out for you and walk you through an entire deployment?
If so, you're in the right place…
This step-by-step guide teaches you everything you need to know in order to eliminate single points of failure for your Linux, Apache, MySQL, and PHP based web applications.
Click here to get started now.
Hear what others have said about High Availability for the LAMP Stack…
"Jason is amazing at providing very easy to understand content which very few writers are able to do. This is a must have book for beginners or advanced users! Keep up the great work!"
– Alex
"This is a great book, well laid out and easy to follow.  I've bought other books of Jason's and am excited to go through this one."
– Gerrit S.
"Everybody wants to know if "there's an app for that," but some people want to make an app for that. You need to utilize an architecture that maxes the application and minimizes the failure points, while being easy to implement and support. This book addresses those issues – and more. It walks you through practical applications like those used in popular social media like Facebook or Twitter, while paying attention to design, scaling, load balancing, and more, with considerations for the Cloud, WordPress, and others, by an expert with years of experience! Jason Canon has done the hard work for you, but don't take my word for it, open the sample and see for yourself how easy to understand and follow his explanations are. You'll be glad you did"
– Dan A.
Click here to get read it now.