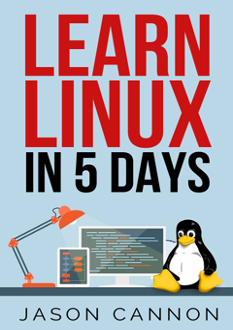 As the founder of the Linux Training Academy and an instructor of several courses, I've had the good fortune of helping thousands of people hone their Linux skills. Interacting with so many people who are just getting started with the Linux operating system has given me invaluable insight into the particular struggles and challenges people face at this stage.
Make the most out of your time.
One of the biggest challenges for people interested in learning the ins and outs of Linux is simply a lack of time. When you are working with a limited and extremely valuable resource you want to make sure you make the most of it.
Don't know where to start?  Let me guide you…
The next biggest challenge for Linux newcomers is knowing where to start. There is so much information available that deciding what to focus your attention on first is a big enough hurdle to keep many people from even starting. What's worse is starting down the path of learning only to discover too many concepts, commands, and nuances that aren't explained. This kind of experience is frustrating and leaves you with more questions than answers.
That's why I've written this book.
Not only have I condensed the most important material into five sections, each designed to be consumed in a day, I've also structured the content in a logical and systematic manner. This way you'll be sure to make the most out of your time by learning the foundational aspects of Linux first and then building upon that foundation each day.
Proven step-by-step method used by 1,000's of students.
In Learn Linux in 5 Days you will learn the most important concepts and commands, and be guided step-by-step through several practical and real-world examples. As new concepts, commands, or jargon are encountered they are explained in plain language, making it easy to understand.
Hear what others have said about Learn Linux in 5 Days…
"Jason is amazing at providing very easy to understand content which very few writers are able to do. This is a must have book for beginners or advanced users! Keep up the great work!"
– Alex
"This is a great book, well laid out and easy to follow.  I've bought other books of Jason's and am excited to go through this one."
– Gerrit S.
"Very helpful and straight to the point."
– Matthew D.
"Great guide for beginners."
– Ryan S.
No-Risk Money Back Guarantee
I'm confident that you'll absolutely love Learn Linux in 5 Days.  But… if for any reason you are not 100% satisfied I'll give you your money back — no questions asked.
Click here to get read it now.

Even more praise for Learn Linux in 5 Days…
"Why I especially recommend Cannon's book is that he takes the time to explain what other books simply assume you already know."
– Jeff A.
"Incredible. Definitely easy to read and understand. Organized clearly (thank goodness – wow), which makes it simple to search by subject or command. Thank you!!"
– Sarah M.
"Well written. Easy to follow."
– Richard R.
"This is great for beginners such as me."
– Steve B.
"I found the book easy to understand and a good foundation to build upon."
– Susan W.
"Great introduction to the command line environment. The examples given are very simple, clear and consistent throughout the book."
– Kevin E.